CII Institute of Hospitality- ITC Rajputana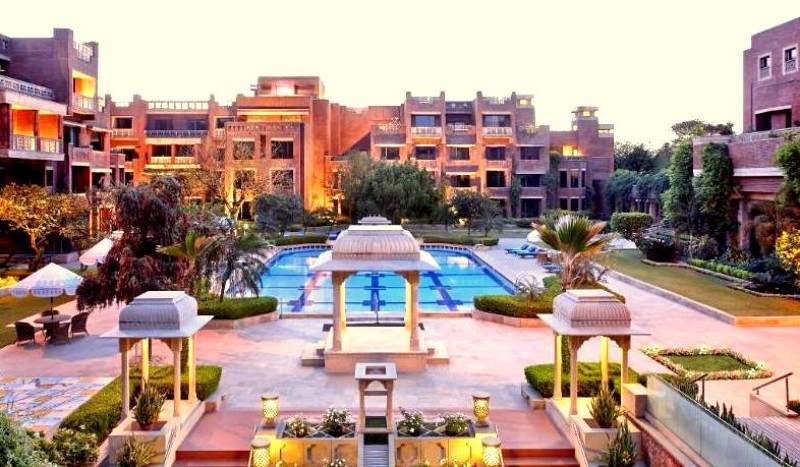 If you are looking for Hotel Management in Jaipur, then no look beyond CII Institute of Hospitality- ITC Rajputana. CIIIH holds the largest chain of Hotel Management Institutes in India with presence in 10 cities covering North, South, East and West.
The field of hospitality and tourism is a highly sought-after career option. It provides a wide range of opportunities to skilled professionals, and with time and experience, they can even be promoted to higher posts in hotels, restaurants, resorts, cruise lines, airline catering services, loading houses, hospitals, etc.
CII Institute of Hospitality is one of the most renowned hospitality management colleges in Jaipur. The institute works to establish and sustain an environment conducive to the development of India, partnering Industry, Government and civil society, through advisory and consultative processes.
ITC Rajputana Jaipur - A Place Where the Magic of Rajasthan Comes Alive
A five-star property with 218 guest rooms and suites, ITC Rajputana Jaipur is a place where the magic of Rajasthan comes alive. Inspired by the imposing architecture of traditional havelis, the hotel evokes the romance and majesty of the royal era.
The elegant red brick exterior encompasses a central atrium, long corridors and secluded courtyards that recall times long past. Infused with this style is the modern uncluttered look and feel - a combination that makes ITC Rajputana a truly distinguished host in Jaipur.
Ecole Hotelier De Lausanne - The Best Hospitality Management School in the World
Ecole Hotelier de Lausanne is consistently ranked as the best hospitality management school in the world. It's been pushing the boundaries of academic innovation since its inception in 1893. Founded in 1893, Ecole Hoteliere de Lausanne is the pioneer of hospitality education and ranks first among the world's best universities for hospitality management studies. Its graduates join a powerful global network of 30,000 professionals and quickly rise to leadership roles in the fast-growing hospitality industry.
Ecole hoteliere de Lausanne (EHL) Switzerland, the 129 years old World's No. 1 Hotel School, is collaborating with CII to provide Vocational Education and Training (VET) by EHL Swiss Professional Diploma in India. The 18-month programme will be offered in ITC hotels across six distinct regions – ITC Maurya- New Delhi; ITC Sonar and ITC Royal Bengal- Kolkata; ITC Maratha- Mumbai; and ITC Grand Chola- Chennai; ITC Rajputana- Jaipur; ITC Gardenia- Bengaluru.
Programmes Offered:
The programme has been curated by EHL School of Hospitality and conducted at ITC Rajputana from Day 1, which lets the students to learn from the industry and experience of working at ITC.
Culinary Professional Diploma

Room Professional Diploma

Food & Beverage Service Professional Diploma
Eligibility:
12th Standard from a recognized board in India with minimum 50% marks in English Language.
Programme Duration:
Swiss International Diploma- 18 months from Ecole Hotelier de Lausanne
Degree in Tourism and Hospitality- 3 Years from IGNOU
Admission Office:
Plot No. 6, Laxmi Nagar, Rawal Ji ka Bandha, Hatwara, Hasanpura, Jaipur
Copyrights © 2023. CII Institute of Hospitality. All Rights Reserved.