Hotel Management Eligibility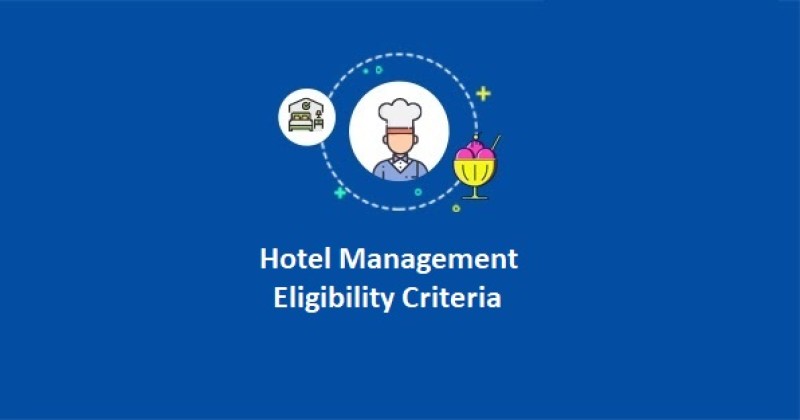 In order to get admission in a hotel management course, you must meet certain eligibility requirements. These are different for every institution, and you should look for a list of all the entrance exams for hotel management in India. Some colleges do not require any entrance exams, while others might require an interview or an internship. To get an admission, you need to be eligible for the program you want to enroll in. Once you have fulfilled all the requirements, you should register for the entrance exam and wait for the results. After the exam, you should also go to the campus for counseling.
Education Qualification as Hotel Management Eligibility
You must have passed the higher secondary examination from an authorized board to apply for the course. If you have studied from an American school board, you must be at least 17 years old. To get admission to a hotel management course, you must have scored at least 50% aggregate in your senior secondary examination. Then, you must clear the Personal Interview and Group Discussion rounds. You must also pass a personality test, which is a good indicator of your ability to work under pressure.
English Communication Proficiency as Hotel Management Eligibility
You should also have a good English proficiency. No matter how much you score in your senior secondary examination but your communication skills are counted. As Hospitality education is a skill based program, your past academic record is not actually counted as hotel management eligibility. The admission requirements for a bachelor's degree in hotel management depend on your age, so make sure to consider all this when choosing a school. This will ensure that you receive the best education and have a great career. You can also take up a certificate if you are already a graduate.
In order to become a hotel manager, you need to have completed your higher secondary examination. This means that you're a high school graduate. You'll also need to pass the course's entrance exam to qualify.
Personal traits as Hotel Management Eligibility
Hospitality Hotel Management course can offer you a rewarding and glamorous career ahead but at the same time it is important to understand that one should be ready for long hours of shifts and hard work in the initial years. To be a successful hotelier, one should have following traits:
Service Heart- One should be people's person and carry a service heart to be successful in this industry. As its been rightly said "Atithi Devo Bhava"- one should treat the guest as GOD.

Communication Skills- As English is a universal language, one should have decent English communication skills to excel in this field of work. Though in some departments of the hotel, it is not required much.

Dedication- One should have passion towards the work to excel. You need to be dedicated to your work and understand that dedication is not time bound. You might be required to work for long hours at times.

Patience- Dealing with customers and guests requires a lot of patience. Sometimes guest react rude but you should have patience to understand their problem and help in best possible manner.

Team Work- In a hotel, it is all about team work, so it becomes inevitable to have a cordial relationship with your colleagues and ensure that the guest is given upmost priority.
If you have all above traits then you fulfil hotel management eligibility criteria and ready to unfold your bright career in this ever growing hospitality industry.
If you want to make career in Hotel Industry, opt for Hospitality Program by CII Institute of Hospitality.
Degree + Swiss Professional Diploma = Assured Job
Swiss Professional Diploma is by Ecole Hotelier de Lausanne- World's No.1 Hotel School
UGC recognized degree awarded by IGNOU
Guaranteed On Job Training at ITC Hotels/ Taj Hotels
Assured Placement in Hospitality sector by Confederation of Indian Industry
Copyrights © 2023. CII Institute of Hospitality. All Rights Reserved.